Gripit Green Self Drive Plasterboard Cavity Fixing
Gripit Green Self Drive Plasterboard Cavity Fixing
The only self-drive you can't over tighten. 20% stronger than other self-drives on the market. 
---
Benefits
Improved design includes inner cam that rotates once outer cam reaches maximum torque
Addresses common issues faced by users
Just one Gripit Green holds up to 20kg
Can be used on all plasterboard types
Perfect to hang picture frames, light switches etc
Application uses
At just under 3cm in length, the TwistIt is designed for use on plasterboard walls and ceilings
It provides quick and easy installation for pictures, light switches, bathroom fittings and more
Fitting
The high-quality plastic exterior, which has added glass particles to enhance the strength, makes the fitting process simple and ensures a secure fit.
The innovative inner green cam section prevents overtightening.
TwistIt Self-Drive can be installed using a standard screw driver, or unlike other self-drives with a standard electric drill saving time, effort and reducing the risk of damage
to walls.
Pack Contains
25 x 28mm GripIt Green fixing
Each Gripit Green is supplied with a 3.5mm x 30mm screw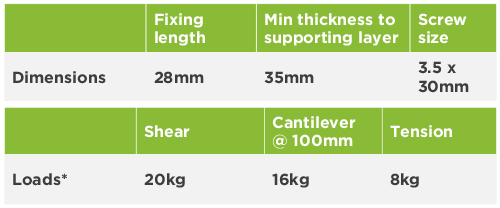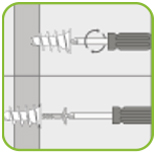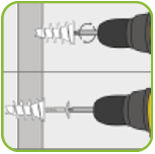 Self-drills into plasterboard. No need for pilot holes.
Inner cam section rotates to prevent overtightening.
Fit with any screwdriver or electric drill.